In "No One Cares About Crazy People," Ron Powers writes of parental love, bewilderment and rage at the vagaries of biological fate. John Donvan says it is one of the most engrossing accounts of raising a family he's ever read.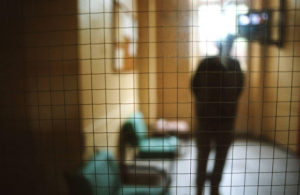 Winning the Pulitzer Prize is one kind of writer's dream. Nearly a year on the New York Times best-seller list is another. A third: when the best seller becomes a movie with a big-name director. Ron Powers is among the few to hit this particular trifecta. The onetime newspaperman won the Pulitzer for TV criticism in 1973, and "Flags of Our Fathers," the immensely popular Iwo Jima history he co-wrote, arrived as a film in 2006, directed by Clint Eastwood. Mr. Powers's newest book is a memoir, covering many of the years during which he scored these wins. A victory lap, however, this book is not. The story he relates—with searing humility and deep respect—concerns his two sons and the mental illness that flowered within them. "No One Cares About Crazy People" is a chronicle of deepening devastation recorded by a father able to do little in response to his boys' suffering other than to witness and to love.
Mr. Powers's memoir is the culmination of both those processes, and is motivated by his insistence on making us care—not just about his two boys, Dean and Kevin, but about all individuals and families wrestling with schizophrenia, bipolar disorder, acute depression and other forms of mental illness. His title signals his grim recognition that this will be an uphill battle. He pulled the phrase, verbatim, from an incident unrelated to his main story: In 2010, the future governor of Wisconsin, Scott Walker, was still serving as the Milwaukee County executive when a scandal erupted over the abuse of patients at the county mental-health hospital. Subpoenaed emails revealed Mr. Walker and his aides worrying about damage to his political future. In the midst of these exchanges, one aide, who later went to prison, attempted to reassure another member of the team with the blunt political assessment that "no one cares about crazy people."
Unfortunately she was right—mostly. Few of us care about the challenges of mental illness until the emergency is inside our own homes. Mr. Powers didn't—until his sons began showing symptoms as teenagers, which is usually when these conditions clearly manifest. But once he was awakened, the world he had entered frustrated and enraged him.
Mr. Powers gives away the climax of his story in the preface: Both his boys, starting at different times, were beset by schizophrenia, and for the younger one, Kevin, the illness proved fatal. At 20, after three years of struggle, he hanged himself, at home in the basement, while his parents slept upstairs. Mr. Powers's decision to put this stunning revelation on his first page was a gesture of respect to his son's memory. There would be no storyteller game-playing with Kevin's life—no ominous foreshadowing, no false hopes for a happy outcome planted along the way. If anything, the author risks scaring away readers uncomfortable with darkness. But those who stay will learn not only what the stakes are but also why they are on this journey.
The stay is worth it, for what unfolds is one of the most engrossing accounts of raising a family I have ever read, one in which Mr. Powers makes universal his themes of parental love, bewilderment and rage at the vagaries of biological fate. At the start, he was just a dad, and his wife, the scientist Honoree Fleming, was just a mom. Neither had any experience in raising children with mental-health challenges. They weren't experts in schizophrenia. Nor did they need to be, for the first 15 years or so. Mr. Powers's early chapters conjure his family's time of pure ordinariness—a quality he cherishes all the more because it was lost. He seems tormented by these recollections—his family's "before" years—but also blessed by them. And by sharing them he lifts his book into something more elevated than a eulogy for Kevin.
Instead, Kevin lives again in Mr. Powers's poignant portrait, which he pieces together from excerpts from middle-school essays; quotations from father-son bedtime conversations that sound as fresh as last night; and, most powerfully, Mr. Powers's descriptions of Kevin's musical talent. The young man was a true prodigy on the guitar, playing since age 4, and was on his way to making a career as a singer. You can find at least one of his teenage performances on YouTube, and his dad's right—Kevin Powers was going to be great.
All of which makes his deterioration, with its declared inevitability, more moving and painful to observe. Mr. Powers, in the middle of it all, had no idea where his son's life was heading or how to keep him from slipping deeper into trouble. Medications were tried. And hospitalizations. But Kevin eventually wanted no part of treatment. The laws limiting involuntary treatment made it difficult to counter Kevin's preferences—a reality Mr. Powers laments. In a way, Kevin had moved past his parents' help, which is one of the things that still eats at the father even now.
Another thing is the sorry history of American society's response to mental illness over the past two centuries. Mr. Powers thumbnails this history in chapters alternating with his sons' stories and aims his anger at the seemingly natural impulse most of us possess to shun the mentally ill, much as we do the severely developmentally disabled. There is a loneliness to being in either of these categories, a loneliness that also afflicts the families of affected individuals and that is exaggerated by the "solutions" developed, over time, for "dealing with the problem." Thus Mr. Powers relates the many remedies put forth over the years by usually well-meaning people who, in profound ways, missed the mark. He covers the eugenics movement; the many decades when the severely mentally ill and developmentally disabled were warehoused in so-called asylums; and the scandal that followed the deinstitutionalization movement, when a benevolent assertion of civil rights led to the shuttering of mental-health centers, but without adequate provision for former residents' continuing need for treatment or even basics like food and shelter. The result: a swelling number of homeless and the transformation of the prison system into a custodial program for people who should be getting help, not doing time.
The real scandal of Mr. Powers's exposé—and he knows this—is that he is not revealing anything new. These failures have been described many times, by muckrakers and reformers, since the mid-19th-century. But each time the outrage proved short-lived, swallowed up by renewed indifference or perhaps mass amnesia. As the author keeps finding, society's impulse to "other-ize" the mentally ill is constant: These individuals are politically voiceless and therefore easy to marginalize.
The most uplifting chapter in "No One Cares About Crazy People" is its brief epilogue, focused on the present. Mr. Powers talks about getting visits in his dreams from a guitar-playing Kevin, and he reports that his older son, Dean, who was given the same diagnosis as his brother, is now "doing fine." Dean has acknowledged that he needs help. He is, says Mr. Powers, "in possession of himself, aware of his limitations, and ready to live on his own in the wider world."
Still, you can hear the caution in those words. Mr. Powers seems to sense that the progress is provisional; that Dean, now 35, will always be at risk; and that his own fathering remains on trial. Assuming the best, though, Dean will outlive his parents, who are his current chief protectors. That is when he will need the rest of us to be on his side—his and all of those among us who face similar kinds of struggle. That's why this book was written: to get us to understand, to empathize, to identify. In short, to make its title a lie.
—Mr. Donvan is the co-author of "In A Different Key: The Story of Autism."