The book is permanently closed now on James "Abba" Boyd. The book may be closed as well on the police body-cam as a check on violent police behavior, especially toward the mentally ill.
On Wednesday, the Justice Department announced that it would no longer pursue criminal charges in the most shocking, sensational, and visually documented, episode of lethal force by police in the young century. 
Was the lethal force necessary? View the clip above and judge for yourself. The overwhelming popular consensus holds that it was not. Yet in a court of law, a trial in which jurors viewed the footage, cutting-edge forensic technology yielded to the oldest form of persuasion known to man: words. Artful words, delivered by an "expert witness" for the defense. Second-degree murder charges against the two officers, detective Keith Sandy and officer Dominique Perez, who fired bullets into the psychotic Boyd at close range dissolved in a hung jury. And on Wednesday, federal investigators announced that they saw no point in continuing their inquiry.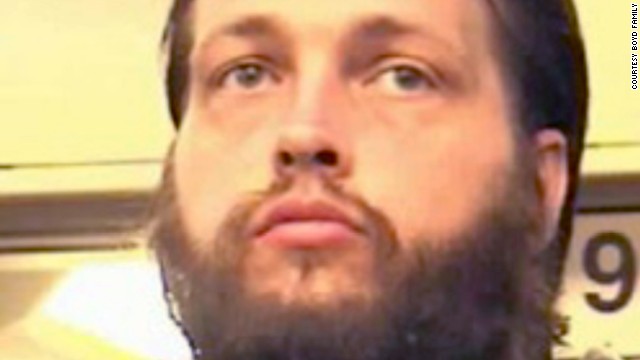 I wrote about the Boyd killing, and the outrage aroused by the video, in Chapter 10, "Chaos and Heartbreak," of NO ONE CARES ABOUT CRAZY PEOPLE. More details, and much testimony, has poured forth in the three years between my writing and Wednesday's final withdrawal by the Justice Department. Here is a summary of how the story built, and of the significance I believe it holds.
WHO WAS JAMES "ABBA" BOYD?
As reporters Patrick Malone and Daniel J. Chacón describe him in this probing profile a month after he was killed http://www.santafenewmexican.com/news/local_news/in-death-by-police-bullets-boyd-has-become-a-cause/article_a356df2a-55ba-5ca8-aac1-432f63640bf0.html, Boyd was a lost soul from the moment of his birth until the moment of his death. His alcoholic and abusive parents divorced. His father beat him with a rubber hose, and Boyd claimed sexual abuse by relatives. He spent much of his childhood in foster homes, and much of his adulthood in mental institutions and in jail. He was chronically homeless. His sister recalled that despite these hardships, James was "highly sensitive, affectionate and intelligent with a good sense of humor."
These traits could not save him from being diagnosed as a paranoid schizophrenic.
As a mentally ill homeless man in a medium-sized city (population 559,000), Boyd was inferentially known to the police. Known and despised. In fact, another bit of recorded evidence, not widely circulated, appears to substantiate the inference. A squad car dash-cam recorded a conversation between Detective Sandy and another officer as they headed toward the Sandia foothills. The voices are indistinct and variously interpreted, but seemed to indicate that Sandy knew his quarry.
Albuquerque TV station KOAT published a transcript that has Sandy promising his partner: "This lunatic—I'm gonna shoot him with a Taser shotgun." http://www.koat.com/article/james-boyd-shooting-officer-keith-sandy-to-retire/4467732. The Free Thought Project, an alternative public-policy watchdog organization http://thefreethoughtproject.com/officer-sandy-murderer-james-boyd-stated-shoot-penis-hours-killing/, published an even darker version: "For this f***ing lunatic?  I'm going to shoot him in the penis with a shotgun here in a second."
THE CRISIS BEGINS
It was said of Boyd that the one corner of the world where he could find a measure of peace, and some relief from the thoughts that tormented him, was the remote sweep of the Sandia foothills about 13 miles east of Albuquerque. It was here, of course, that he was slaughtered.
Boyd was 39 when he made his final visit to those foothills on the Sunday of March 16, 2004. The husky, bearded man with deep circles under his eyes carried some rudimentary camping equipment in a bulging kind of knapsack. He may have been wailing. A resident of a gated community on the edge of the wasteland looked out his window and spotted him. The spotter was offended: camping without a permit was against the law! He called the police.
Before long, squad cars with flashing red lights began screeching to a halt in the vicinity. As the day wore on, reinforcements arrived; the armed force would swell to forty officers, including a SWAT team. Officers deployed and crept toward Boyd, who was standing motionless beside a large rock. They had brought service revolvers, Taser guns, a rifle, a "bean-bag"-dispensing shotgun, a German shepherd attack dog, and a supply of "flash-bangs"—non-lethal devices used to stun and temporarily blind a suspect. Apparently, fighter jets from nearby Kirtland Air Force Base were unavailable.
The police made do with what they had. They demanded that Boyd surrender. Threatened and thrown on the defensive—the most dangerous possible state for someone in psychosis—sBoyd stood his ground. The video shows a small white object in each of his hands. Police would later describe the objects as knives.
DENOUEMENT
To their credit, the police did not attack immediately. The single police officer present who'd had some crisis-negotiation training tried to talk Boyd into giving up. The addled man responded that he was the Defense Department and did not appreciate being given orders. The talk eddied and ebbed and flowed for an hour or so, as the two discussed Playstation games and whether Boyd could have a meal at a Denny's if he surrendered.
Eventually, a senior office pulled the negotiator away and assigned him to another duty. Now effective communication had ended.
The standoff continued. It ended after more than three hours, near nightfall. The video shows Boyd seemingly ready to walk the short distance down the slope to where a clutch of cops faced him, weapons drawn. The sticking point, fatal to him, was that he refused to drop the knives in his hands.
And then all law-enforcement breaks loose. Boyd turns to his right and bends to pick up his knapsack. He hoists it over his shoulder and bends again. Bewilderingly, it is at this vulnerable and unthreatening moment, with Boyd absorbed in gathering his belongings, that an officer lobs a flash-bang. It explodes at the cornered man's feet and produces the desired effect. Boyd lurches, then drops the sack, spreads his arms, and freezes. Sandy and Perez close within four feet of him, the German shepherd racing out ahead. The officers yell, "Get on the ground!" When Boyd refuses, they open fire with rifle and pistol. Boyd begins a pivot to his left, at which point he takes a rifle bullet to his back, ripping through a lung. Bullets strike both his arms, shattering the right one. He sprawls face-down on the rocky ground and receives a bean-bag blast in his buttocks. The dog continues to worry at him. Clearly, he is grievously wounded, yet the officers show no urgency in getting him off to a hospital. Instead, they surreally insist on him getting his hands up, although he is prone.
As I write in Chapter 10,
"The shooting stops, and the police chat among themselves for a few moments, striking attitudes of disengagement weirdly typical of officers—and perpetrators as well—in the seconds following use of lethal force. Then an officer leans down to the mortally wounded man and tugs harshly at his left arm. At length he yanks it free [from beneath Boyd's torso], and everyone crowds around to see what is in Boyd's hand. From the video it is not clear what, if anything, he had been holding."
Eventually the police transport Boyd to a hospital half an hour away. That night, doctors amputate his shattered arm and remove the punctured lung. A few hours later, James "Abba" Boyd dies.
THE IMMEDIATE AFTERMATH
The expeditionary force's successful neutralization of the menace that had been James Boyd provided a marker in the annals of police violence in America. It ignited two days of street protest in Albuquerque (police resorted to tear gas on the demonstrators) and briefly seized the attention of the national news media. http://www.rollingstone.com/culture/features/when-cops-break-bad-albuquerque-police-force-gone-wild-20150129. 
The city's residents were unstrung by years of lethal gunplay by the city's police department: some thirty-seven shooting deaths of civilians since 2010 alone, resulting in twenty-three of them fatally (three-fourths of these were mentally ill). None of these cases produced an indictment. Yet Albuquerque paid out a cumulative $28 million to settle officer misconduct lawsuits.
But even this sustained butchery took second place to another factor that raised James "Abba" Boyd's execution in the New Mexico foothills to almost a sacrificial moment: with it, the body-cam came of age.
Miniature video-recording devices had been on the market and in use by some police forces for several years before this event. Yet never had the footage from one made such an impact on the public imagination or on law-enforcement policy. After the Albuquerque police department released this shocking visual narrative at the demands of the Boyd family's lawyers, it—and the still images made from it—played on TV newscasts, in newspapers, and on websites. Versions of it, edited to varying lengths, are still available on You Tube.
It was just this visual narrative that caught my attention as I began work on NO ONE CARES ABOUT CRAZY PEOPLE in 2014. Credulous fool that I am, I included the Boyd/body-cam saga partly because I believed that it heralded a milestone. This device, surely, would usher in an era of accountability and self-restraint among those police officers who might otherwise give vent to their more sadistic impulses.
Ho.
USHERING IN A NEW. . .ERROR
Three years can be a long time for the lifespan of an era in this country. As I commented at the beginning of this essay, the book is permanently closed now on James "Abba" Boyd. And closed along with it is the hope that the body-cam, or any other deus ex machina, might ensure safety—or at least the lives—of mentally ill people in trouble with the law, law enforcement, or jailers.
Largely on the strength of the damning video, detective Keith Sandy and officer Dominique Perez, who'd fired the fatal bullets into Boyd, were indicted on second-degree murder charges. But last October, a mistrial resulted when jurors could not reach a unanimous verdict.
OF PICTURES AND WORDS
A pivotal element in the trial was the testimony of an expert witness: specifically, a "policing expert" named Ronald McCarthy. McCarthy screened the body-cam footage, commenting on it as it ran. He testified that the officers had used the right tactics and followed standard training during the standoff. http://www.mybendbroadband.com/news/read/category/us/article/the_associated_press-defense_witness_police_did_everything_right_in_sho-ap
McCarthy, who is 78, is a former SWAT team member. A profile of him in the online journal New Mexico In Depth http://nmindepth.com/2016/12/04/officers-language-strips-emotion-from-shootings/ describes his courtroom skill in using "stilted, mechanical language [which] is typical of jargon used by police officers across the country in reports and testimony. But when used to describe a police officer's decision to use deadly force, it can also have the added result, intentional or not, of transforming a chaotic, emotionally charged scene into an abstract, formulaic equation" and thus desensitize a jury to the moral consequences of what is being tried.
The report was published in December 2016 by journalists Justin Horwath and Jeff Proctor, and it deserves wider attention than it probably received. Horwath and Proctor take us into a pervasive world of para-militarized courtspeakdesigned exactly to accomplish what George Orwell prophesied: "to make lies sound truthful and murder respectable, and to give an appearance of solidity to pure wind." 
For instance, guns are not "guns" in this specialized language; they are "systems," or "platforms." Police officers use them not against human beings, but against "problems." The policeman's duty is to "fire until that problem disappears from the sight picture."
Or, to update the adage: A picture is no longer worth a thousand words. In courtspeak, not even a thousand words are worth a word.
Law enforcement failed James Boyd. Forensic technology failed James Boyd. Language failed James Boyd. And the search continues for some way to bolster the odds of simple continued existence among society's most abject members as they are confronted by the most dangerous of the most powerful.
________________
Justice for James Boyd: https://www.facebook.com/Justice-for-James-Boyd-1451885931714544/